International. Glenn J. Hamblett, 67, of Wareham, passed away Friday, May 12, 2023, at his home after a long illness.
He was the beloved husband of Peggy A. (Dearborn) Hamblett and the son of Pauline M. (Thibodeau) Hamblett and the late Edward B. Hamblett.
He was born in Hartford, CT and lived in Colchester, CT before moving to Wareham, MA in 1978. He graduated from St. Bernard High School in Uncasville, CT and attended Bryant University in Smithfield, RI.
In his youth he was an altar boy and a member of St. Andrew's Church in Colchester, CT. He was also active in scouting and other community activities.
As an adult, he was a member of Wareham-New Bedford Lodge of Elks #73 and former Commodore/President of the Bourne Marina Yacht Club.
He and his wife Peggy enjoyed traveling extensively over the years and enjoyed sailing in Buzzards Bay and Cape Cod Bay. He enjoyed all professional sports, especially the New England Patriots and enjoyed his grandchildren's success in youth sports.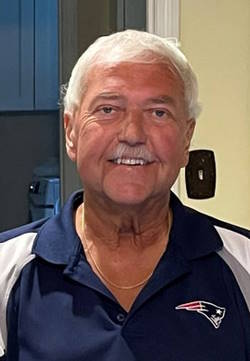 One of the greatest joys of his life was preparing hundreds of family dinners over the years for his family to celebrate the holidays and different family events.
Mr. Hamblett worked in various senior management positions in the auto parts and automotive aftermarket industries. He was well known and respected in the industry for his technical expertise and the training events he organized.
Most recently, he retired as national sales and marketing manager for Davico Manufacturing in New Bedford.
He is survived by his wife, Peggy A. (Dearborn) Hamblett of over 40 years; his mother, Pauline M. (Thibodeau) Hamblett of Colchester, CT; his children, Matthew E. Hamblett of Fairhaven, MA, Jason W. Hamblett and his wife Jody of Spartanburg, SC, Jessica Marsh and her husband Mark of Spartanburg, SC, Melissa B. Weldon and her husband Timothy of Taunton, Adam L. Treadwell and his wife Jessica of Natick; his brother, Darryl B. Hamblett of Hebron, CT; and was known as "Bampa" by 11 beloved grandchildren.
Visiting hours are 4 to 7 p.m. on Wednesday, May 17 at Chapman Funerals & Cremations – WAREHAM, 2599 Cranberry Hwy., Wareham.
His funeral will be held Thursday, May 18 at 9 a.m. at the funeral home, followed by the Liturgy of the Word at St. Patrick's Church, 94 High St., Wareham at 10 a.m. Burial will remain at St. Patrick's Cemetery.
Donations may be made in his memory to Dana-Farber Cancer Institute, P.O. Box 849168, Boston, MA 02284-9168.