Three Venezuelan businessmen tell what it has been like to build a brand and make themselves known in the US aftermarket.
The auto parts industry is a chain that requires the synergy of different components to be activated. The semiconductor crisis gave an account of this, by affecting the availability of new cars, something that evidenced especially the Latin American market.
The in-depth knowledge of this market is a plus with which professionals from this region have come to provide greater dynamism to the machinery of the industry in the United States. However, the work to promote a brand, make a space in marketing positions and project horizons not contemplated is synthesized in stories of strength, perseverance and a lot of dedication. Here are some of them.
Among the heavyweights
In February of this year, Gabriel Garrido celebrated 30 years in the heavy vehicle industry. Its origins date back to the city of Valencia, in Venezuela, where it began working in a now defunct wholesale company called Suspenco, where it remained until 1999.
On August 26, 1997, he founded his own company called RDV Venezuela, which recently celebrated 25 years as a wholesaler of truck parts in Venezuela. However, on November 2, 2002 he created in Miami the company initially called Master Parts, which functioned as RDV Venezuela's purchasing office in the U.S. until 2008.
That year, on July 28, 2008 (the dates are fixed in his memory and are important to him, because they represent the beginning or end of a stage), he moved with his wife and three children to Miami. There he rented his first warehouse and went on the market under the name of Master Parts. However, a California law firm called him indicating that he could not use that brand that he had already been using, so they gave him some time to change it.
The acronym MP was already part of the logo printed on the distribution boxes, so I kept thinking of a name that was tuned to them. Once, when boarding a plane on the way to China, a Colombian client who had received his name in Spanish called him alluding to the "most parties."
This made Gabriel communicate with some of his partners, asking them what it could mean if he added an 's' to the 'more' and left the base complement of 'parts', which resulted in 'Mass Parts'. The 'mass' itself, he was reminded, could refer to mass, volume (apart from being the abbreviation of the state of Massachusetts). Gabriel called his lawyer to inquire about the availability of the name in the system, and immediately went to register it.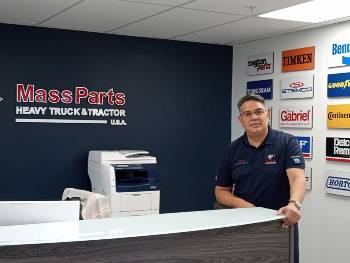 Thus began the path of Mass Parts in the American market, in a warehouse of 1000 square feet, and now reaches 25,000 ft². It had originally emerged to supply his company in Venezuela and grow in Central America. However, today 60% of its total sales correspond to the United States and 40% to Latin America, with sales not only in Florida; also in Texas, Alabama, Georgia, among other American states.
"That's where we're growing; it is not easy because of the extension of the United States market, a country that logistically is very complicated, but we are here to continue growing and be successful, "says Gabriel in relation to the Mass Parts business as a distributor of spare parts and accessories for trucks.
"We have been committed to offering our customers high quality products at competitive prices since 2010," he adds, referring to the year he created his third company in Bogotá, under the name RDV Colombia. Both this and RDV Venezuela are managed by his brother, Leonardo Garrido.
About 18-20 employees work there, the same number as the company based in Miami that, despite global situations and local challenges, maintains the perspective of continuing to expand and have more anniversaries to celebrate, such as its 50th birthday next December.
A multi-generation business
Precisely, next December marks ten years of the establishment in Miami of Braico Group, a venture of another Venezuelan in the 60s. His son-in-law, José Luis Bruno, is the current CEO of the company.
For more than half a century, the company has been purely dedicated to the auto parts market. While it has an inventory of around 3000 items, it handles two major product lines: the segment of drive belts and conveyor belts for the automotive and industrial market, starting with the Japanese brand Bando, as well as professional tools through the Jonnesway brand.
"Physically we work at the level of distributors and wholesalers; we do not serve the public directly," clarifies José Luis, who asserts that although the company maintains operations in Venezuela, where the parent business starts, it has been projected to new frontiers: the Caribbean, South Florida, as well as part of Central and South America, markets that in his opinion have been quite affected by the pandemic, despite finding some signs of recovery.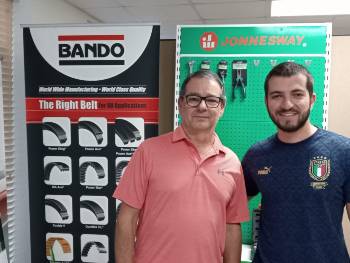 "The business format used in many Latin American countries, including Venezuela, is very different from the business format that exists today in the United States," says José Luis, who points out that they have had to open up to online sales and develop specialized stores for their products.
It is part of the new times to which this family-type company has had to adapt, which always stands out as an effort of more than 50 years. He is currently accompanied by his brother, Gabriel, and his son, Luis Alberto.
"We are facing great changes, going through difficult times, at the level of everything we have experienced in recent years," says José Luis when pointing to the global problem of supply chains.
"Production is not in line with demand and we are seeing things, delays in the dispatch of orders, which I honestly had never seen in 22 years," he points out as one of the factors that does not allow us to have a better position in sales.
"Today you hardly get a new, state-of-the-art vehicle, a measure outside the standard. Easier, the new engines tend to have smaller belts, because there are fewer components, and we are going towards the world of electrification, "he says about a trend that in his opinion remains to be seen if it materializes in the next 10 to 15 years.
It is an era that may have to assume Luis Alberto, who would be the third generation in charge of the company. "Times that I find hard to believe, but obviously the big companies are investing heavily in that," he says.
Two women with opportunity sensors
More than 25 years ago, Milagros Méndez also arrived from Venezuela to the United States, in her case to practice her law career. He was there when he was called from his native country by a friend, a mechanical engineer, who asked for a hand with some poorly prepared orders from his supplier there.
"But I know absolutely nothing about this; talk to me about law, but not about spare parts," Milagros replied. "Don't worry; I teach you step by step," he told her on the other end of the line.
Thus, Milagros was instructed where to get sensors, which was the best factory, how to test them. With each guideline received, he entered more and more into the world of the aftermarket, passionate to the point of not sleeping, and finding boxes of suppliers that flooded his house, and that he took through two or three containers per week to his native Venezuela.
At one point, his house became too small, and he had to buy a 1000 ft² warehouse in El Doral and hire a lady who helped him pack when large orders arrived, already from an even larger distributor in Venezuela. Over time, this distribution would be extended not only to sensors, which is its forte, but also to water pumps, gasoline pumps, modules and coils.
During an AAPEX fair, a major customer in Mexico asked him to distribute his product, for which he asked for his brand. Ramco Automotive (located at booth A3867 of this edition), registered since the beginning of the last decade, was born in his mind at the beginning of this century a few months after the death of his father: Ramiro Méndez; The beginning of his name became the basis of it, to which was added the 'co' suggested by a friend, "because that's going to be something big."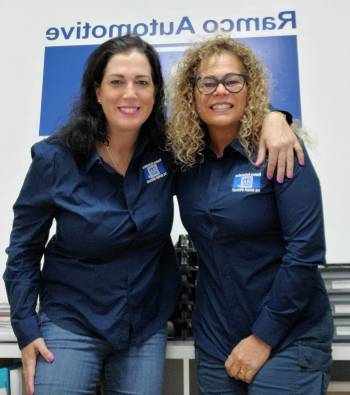 However, ten years ago, when her old friend Clarisa Gianelli also traveled from Venezuela to Miami in search of better opportunities, she found Milagros with only the client from Mexico and distribution in Venezuela, where she had just lost a major burden at the expense of a partner who disappeared.
Immediately, Clarisa, who knew the logistics part from her experience in a typography in Venezuela, began to make a wide list of distributors not only in Latin America and the Caribbean, but even Europe. Thus, the company took a second wind of expansion, to the point of opening up to the United States market by the hand of The National Performance Warehouse Companies (NPW), which highlighted the quality of its product.
In this country they have 25 employees, most of them women, whose presence they want to reaffirm in "a closed world of men", as Clarissa affirms, who maintains that within the United States it is the only company with its own brand, certified by Miami Dade, SBE & LDB, led by Latina women. For this they have had the valuable support of Tammy Teclemburg and her company Dott which, in the words of Milagros, has been "a reliable voice in the navigation of the industry and fundamental to our recent success".