Dust and debris are the main invisible threats to heavy machinery and machine operators on industrial job sites.
By Joao DaCosta*
Although often not detectable by the human eye, microscopic dust poses a greater risk to workers' health and has a negative impact on air conditioning systems and machine engines on industrial job sites.
If left unaddressed, dust and debris can cause short-term health problems and chronic diseases of the lower lungs in the long term.
Running job sites in industries such as aggregates, cement, waste and recycling, demolition, and agriculture is a resource-intensive effort and optimal productivity and performance, especially amid increasingly tight supply chain constraints and labor reserves.
Providing clean air solutions for workers and machines is a cost-effective way to maximize operational efficiency and achieve health, safety, and financial performance goals.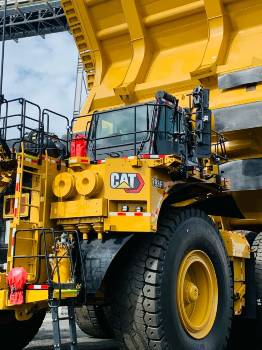 Mobile air conditioning and machine maintenance service providers can partner with industrial end users and heavy equipment fleet owners to improve air quality for machine operators.
This article highlights air quality standards in heavy equipment cabs and filtration innovations that promote worker comfort and safety in operator environments.
We recently spoke with Austin Browne, vice president of sales and marketing for Sy-Klone International, to discuss global cabin air quality standards. The newly established ISO 23875 global standard for cabin air quality is highlighted, as well as the importance of pre-cleaning of the air and high-efficiency filtration.
ISO 23875: New standard describes how to improve air quality, reduce occupational exposure
There are many benefits of clean air for industrial workers, whether a site seeks to improve the overall health and safety of workers' air quality or meet the specific requirements of an international standard or regulation. These goals can be achieved by service providers through a range of options.
Many companies in Latin America have established safety programs that focus on ensuring that workers return home safely and in the same conditions they arrived at work.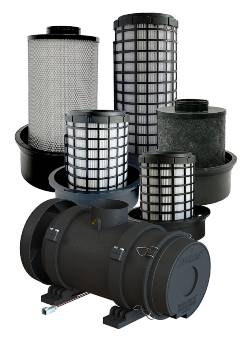 Large industrial companies, such as international mine operators, are adopting ISO 23875, a new cabin air quality standard, as part of their exposure reduction programs.
The standard includes performance and engineering requirements for new orders for heavy mobile equipment and your current machines operating on site.
Approved in February 2021, ISO 23875 is an international standard that creates a consistent approach to designing, testing, operating and maintaining air quality control in the operator's enclosure through the machine's HVAC system.
ISO 23875 protects the machine operator's air quality from the negative effects of harmful respirable particles and unsafe CO2 levels in cabs through documented engineering controls and performance requirements.
These include defined maximum levels of CO2 to increase alertness and machine operator focus, plus increased filtration efficiency that can reduce exposure to harmful respirable particles.
"ISO 23875 has standardized the way equipment owners can provide clean air to their machine operators, protecting the air quality of their employees, while extending the life of their machines," Browne said.
"ISO 23875 is an international standard that has been adopted in Colombia as a national standard and is attracting the attention of mines in Chile, Peru and other countries as a way to protect workers' air quality," he added.
Sy-Klone International's RESPA cab air quality suite was the first on the market to meet the engineering and performance requirements of ISO 23875.
RESPA cabin air quality systems include motorized fresh air pre-filters and pressurizers, recirculated air quality systems and cabin air purifiers, high-efficiency self-cleaning filters, and real-time cabin monitors that measure pressure and CO2.
A key component of any cab air quality facility is an in-cab monitor that can continuously monitor air pressure and CO2 levels and provide integrated audible and visual alerts that notify the machine operator when these levels exceed permitted thresholds so that maintenance can be performed.
"Sy-Klone's RESPA Advisor+ pressure and CO2 monitor enables companies to meet the monitoring requirements of ISO 23875," browne said.
Pre-cleaned air to improve filtration and air quality
ISO 23875 outlines the steps to provide clean air within operator enclosures through a number of engineering and performance requirements. An important way to improve air quality within the operator's enclosure is to prevent dust and debris from entering the enclosed space using the pre-cleaning method.
Pre-cleaning is the act of removing dirt and debris before reaching a filter. In an operator cab application, pre-cleaning the air before it flows downstream into the air conditioning system leads to a longer filter life and greater overall reduction of dust and debris.
Sy-Klone International invented the concept of motorized pre-cleaning, or the act of using a fan to manipulate airflow in a way that expels dirt and debris from the filter housing before it reaches it.
According to Browne, Sy-Klone's patented pre-cleaning technology, when incorporated into cabin air conditioning systems, removes and expels debris from dirty air before it reaches the filter.
"The combination of motorized pre-cleaning technology with our high-efficiency self-cleaning filters significantly improves air quality and leads to a higher performance and longer-lasting filter, ideal for extreme work environments in Latin America," he concluded.
*Joao DaCosta, Global Account Manager, Sy-Klone, [email protected]